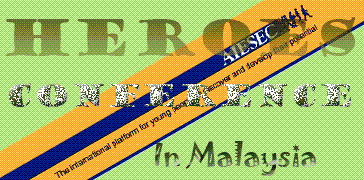 Energy levels are running low, but the learning process is going on. Currently we're talking about inspiring greatness and turning our passions into purpose. Just now I had to do some self-reflection and rounded up the top 3 passions of my life. These are:
1. Career
2. Money-making
3. Music
These passions all point to the ultimate goal of my life, which, for me, is family. My ultimate goal is family. I know music has nothing to do with everything else, but it's something I feel about passionately. And I can follow all three passions through @.
Like for NLDS, I hope to be writing more about the Heroes Conference and what I'm learning from it once I'm done with it. Today's the formal dinner and tomorrow's the last day. I'll be going back to Singapore on the day after tomorrow [18th Dec], but no sure-shot plans yet. Will be staying a night around the KL Central area.