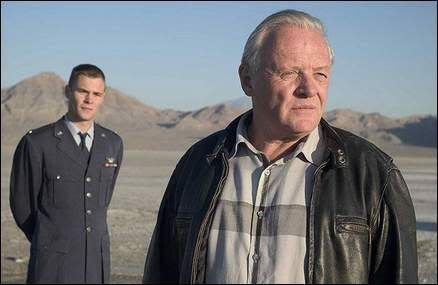 It really must mean you have become extremely tech-savvy when you try to make the credits roll faster at the end of the movie by trying your mouse's scroll button. I mean, why not? Sure, that would be cool. But then, the music would also "scroll" faster and no one wants that.
Anyway, the World's Fastest Indian is one great movie if you're looking for motivation. It's about following your dream, feeding your passion and all that. It is the true story of a man who wanted to set the top land-speed record on his motorbike that only went up to 52 mph when he first purchased it forty odd years before. But the movie itself isn't about the record. It is the story of a man who was larger than life and did not take no for an answer.
Played by Anthony Hopkins whose sheer brilliance has been captured by Donaldson's best film to date, Burt Munro is a crusty and crafty man from New Zealand with just about the right amount of New Zealand accent. He makes a long journey to Utah to participate in the annual Speed Week and fights one battle after the other in a foreign land. While ordering breakfast to the annoyed waitress, he was asked how he would like his eggs to which Burt replied, "I'd like them cooked". The nature of his simplistic nature was such that he was intrigued to see a menu with photographs!
What needs to be pointed out here is that this film is based on fact. Burt Munro was, in fact, a folk hero in New Zealand where the movie's writer and director, Roger Donaldson, grew up. So you could say it is a true story of a local hero in New Zealand. Or it could be a story about certain New Zealand characteristics, like their modesty in drawing any attention to themselves. See, Burt would rather talk about the "Indian" - his motorcycle, than himself. The movie could also be about setting foot in a foreign land, ignoring the coldness one might feel, and staying optimistic.
The movie assures us that Burt's record of riding his bike up to 201.85 mph under the category of "streamlined motorcycles under 1000 cc" stands till today. Burt worked twenty-five years on his rusty 1920 Indian motorbike to make this record without ever knowing if he would ever even leave Invercargill - his hometown, let alone going all the way to Bonneville in Utah. That too to compete against millionaire drivers who were sponsored by huge corporations! And to add to that, throughout this ordeal he was constantly suffering from angina pains.
It is the display of intrepidity of this level that gives me the psychic energy I need in this hour of need. And what can this hour of need be, you ask? Why, it's the exam period again; right around the corner! And what's that lying in the corner of my room? A stack of books? Why does it seem like I never saw them before?
My oh my.
Burt, how did you motivate yourself all along? How!