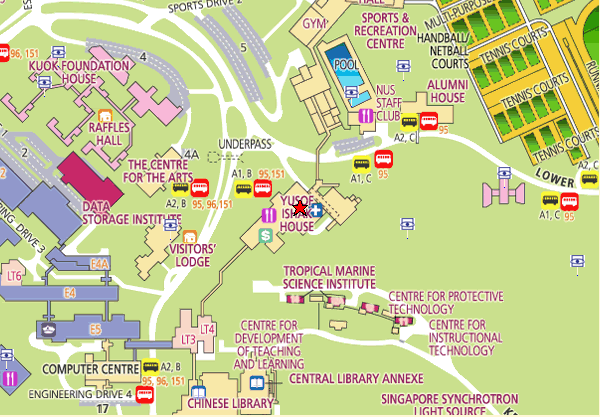 Yes, that's the unofficial name for UHWC [
University Health and Wellness Centre
]. So if you have any visa or administration-related documents that concern with your health status, just queue up there - all the people who are really sick and deserve more attention than you will wait for you. So staple those forms and start queuing!
If you're really sick, it doesn't matter if you're staff or student, or if you have fever or not. Rules are rules. Doctors have limited time, and it is not fair for a doctor to see a sicker patient who came in later than a perfectly healthy "patient" who just cares for the doctor's signature under "healthy" and not his/her diagnosis.
So at the beginning of each semester or even special term [as I recently discovered] there is always this bulk of people who need to get their health status verified and documents completed, even if they are in perfect condition. What's funny is that they can only get their checks done when they are perfectly healthy, otherwise their requirements for the student pass etcetera may not be met.
So my point with all this is that a sick person demands immediate attention from a clinic or hospital. Poor or unprioritized administration in government hospitals was tolerable in Pakistan since the government is not even half as rich as that of Singapore, but medical and health centres [mostly private ones] of the same repute and "standard" as UHWC have much better standards for patient care than UHWC does. For a clinic designated to a world class university such as NUS, this is utter shame.
Sick people need to be treated. Before they get sicker. Or before they start spreading their germs. Or before they miss another hour of work. UHWC operates 8:30 am to 6:00 pm [till 5:30 pm on Fridays], which means you are advised not to get sick at any other time. It does not matter if you purchased their "comprehensive" medical insurance plan, which is obligatory for us international students, you are only to get sick during these office hours. And if you do get sick during these office hours, it does not matter if you are working on an internship during vacation time or attending classes during semester time, you will still wait in queue for an hour or more, just to see the doctor's face. And these are no specialists, mind you! For anything slightly advanced, they will refer you to NUH [National University Hospital] which could charge you enough to make you homeless.
So it's a bad deal for everyone. For minor things like a chest infection, you have to miss hours of work [bad] or hours of lectures [worse]. For surgical things like a toe-nail surgery that come under "can do without, but better if done", you still have to pay for it as the insurance won't cover it. For allergies, they are considered to be "pre-existing conditions prior to entry to the University" and hence the medicines are not covered. In fact, any medicines that are more advanced than paracetamol need to be purchased. For people using spectacles there is nothing. Also, there is no explanation as to why Singaporeans only pay $60 while we pay $140 for the same services. [Actually, we get "Hospital and Surgical Insurance Scheme" that Singaporeans don't get, but it mainly includes SARS treatment that most people from "third-world" countries are resistant to (I don't even think it exists; it's just a good rumour), and I don't think charging us $80 extra for it is a fair deal.]
Oh, and women, you are not allowed to get pregnant while studying at NUS because your insurance won't cover any maternity care!